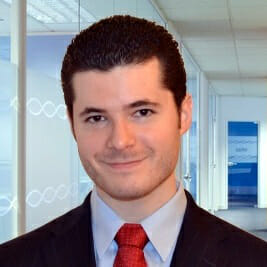 Founder
Jonathan Koves, Founder of Gold Rate, responsible for overseeing a team of international data scientists, financial analysts, business journalists and economists as well as dedicating his time to the further advancement of Gold Rate's service provision.
Part of the International Business News portfolio, Koves manages a range of digital publications – of which GoldRate.com and GoldNews.com feature. Gold Rate, as well as other titles in the portfolio, provides commodity market data, analysis and intelligence to its users.
Before launching Gold Rate and other titles within the International Business News family, Koves founded Analytics Logic. A HubZone certified analytics, data science, conversions optimization, Web technology and digital marketing consulting company, Koves has led Analytics Logic to early success having already formed partnerships with a host of leading organizations, countrywide. Clients include The U.S. Department of Health and Human Services, General Services Administration, The U.S. Food and Drug Administration, National Institutes of Health and IBM.
A seasoned entrepreneur, Koves has previously founded Koves Technologies and Automedica. He has also worked as Senior Analytics Consultant for the Eliassen Group.
As a reputable business leader, Koves enjoys supporting non-profit and community initiatives. To date, he has volunteered his expertise at the William R Nelson Institute for Public Affairs as Research Associate, the Mensa Education and Research Foundation National Scholarship Program as Scholarship Chair, and at Goodwill Industries of Central Virginia as Information Management Advisory Councilman. Koves' volunteer work has seen him give strategic direction to further advance education, training, and career service opportunities for the disadvantaged, welfare dependent, homeless or incapacitated people as well as directly help to implement new scholarship programs.
Koves earned his BA, Magna Cum Laude, in Political Science, Pre-Law and Russian Studies from James Madison University.
Latest from Jonathan Koves
---