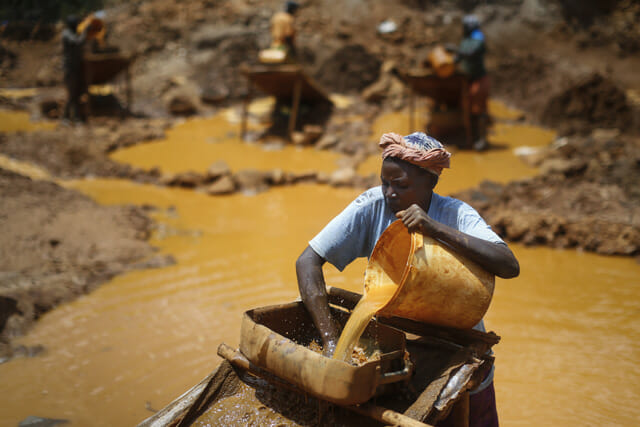 Kenyan gold miners have been told to refrain from using mercury when extracting gold. The national government wants the wants all miners to use borax instead. These regulations come at a time when the gold price is rising globally.
The chemical name for borax is sodium tetra borate, better known as sodium borate. It's a highly useful boron compound known for its white crystalline structure consisting of hydrated sodium borate. Borax has several uses in many industries, the most prominent of which is as a flux to promote fusion with metals and minerals.
Borax is also used as a cleansing agent, water softener and fireproofing agent.
The Kenyan government wants to prevent miners from using mercury because of the substance's concerning impacts on human health.
How to Extract Gold from Borax
Researchers recommend the use of borax to extract gold as opposed to mercury which is harmful to human health. The primary reason why borax is looked so favorably by the government and researchers alike is due to its widespread availability and affordability compared to mercury. So not only is borax safer than mercury, it is also cheaper for miners to buy.
A large percentage of small gold miners in Kenya use mercury amalgam to increase the rate of extraction of gold from its ore. These 'artisan' gold miners often become sick due to exposure to toxic mercury which produces harmful effects on the immune, digestive and nervous systems. The Ministry of Petroleum has launched a countrywide campaign to inform people about mercury and its alternatives.
The move was primarily kicked off because of a project spearheaded by the United Nations Environmental Programme (UNEP) titled "Global Opportunities for Long Term Development of Artisanal and Small Scale Gold Mining Project". The primary goal of the project is to introduce an environmentally friendly method of gold extraction which is free of the dangers of mercury.
Kenya is one of the eight countries that will participate in the program, receiving over $3 million in sponsorship to help artisan gold miners switch from the harmful mercury to borax.
Trials in Gold Mining Areas
The government has conducted several trials to study the impact of extraction processes based on the use of borax. Some gold mining areas to be tested in territories scattered throughout Kakamega County including Homa Bay, Migori, Siaya, Narok, West Pokot and Vihiga.
Official records from the ministry reveal that Kakamega has over 37.1 million grams of gold reserves, valued at over $296.6 million. The government has partnered up with several research centers and environmental organizations such as Kipya Africa Limited and Strathmore University Extraction Industry Centre (SEIC) to aid the trials.
Exposure to mercury represents grave health risks to artisan gold miners because they don't use protective gear such as safety goggles, air masks, gloves and ear plugs when extracting gold. Some gold miners aren't afraid to use their bare hands to handle mercury. Continued long term exposure to mercury has been known to make these workers permanently lose their fingernails.